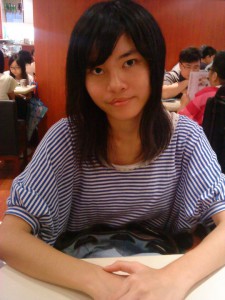 When I was in primary school, I have been to church already. But I didn't go there anymore because I was busy with my studies.  In  Form 1 and 2 , it was the most helpless years in my life. I felt that no one could understand me, I tried to make friends with a sincere heart but what I got in return was  " hurt ".  I felt very tired about people and relationships.  And I have became very quiet and closed my heart and didn't want anyone to see through me inside.
It was at this moment in time I joined the Elim Youth Alpha. At first, I didn't talk much and felt quite lonely. But gradually, since I also joined cell group every Saturday,  I stopped feeling lonely anymore. 
The reward of keeping going to the meetings was a kind of " step by step faith ". I accepted Christ in the 1st Youth Alpha and since then I joined all the Youth Alpha courses as a worker. 
Now, I can make friends with a sincere heart and not be afraid of getting hurt. I don't feel that school is a dark birdcage anymore. The most important point is, God has given me countless faith,  that I will not run away, but have the courage to face the difficulties in my life !
Phoebe    Form 4 Student