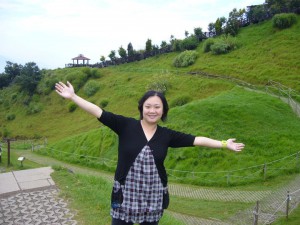 I knew Jesus since I was very young. My teacher told me, Jesus loved me and died for me. So, I followed Jesus with a very simple mind. When I was in Form 1, I followed my aunt and went to church. There wasn't any earthshaking experience, but my life has been changing since then.
I was a very lonely kid, lacking love from my parents. I tried to please everyone around me because I was afraid of losing their love. I didn't know that I was hurting myself with this, the more I was afraid, the more I would get hurt.  Gradually, I became very self-protective, and on the other hand, living for others. I didn't enjoy life at all.
When I was about to graduate from high school, my parents were devoiced.  I stood on the MTR platform and was thinking of jumping down to put an end to all of these sufferings. 
It was at that moment, the Holy Spirit reminded me, I was bought by Jesus at the cost of His own life! Therefore, I didn't jump, I realized that the one who was living is not me anymore, but was Jesus in me.  And this loving savior changed my life from day to day since that day onwards.
And now, my value does not depend on how much I have achieved, or whether people value me or not, because I know that Jesus loves me. I opened up my heart to love other people, and living not for other people but only for God. 
Hardships will still be here, but I know God will never leave me alone, and He will give me the courage to live a wonderful life.
Sandy   Secondary School Teacher