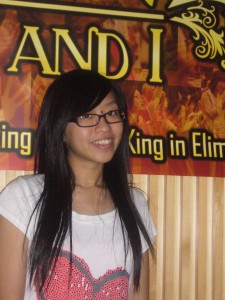 I grew up in Christian schools and I have heard many stories about Jesus and His miraculous acts. I felt His power and therefore I believed in Him and wanted to know Him more. I asked my Christian friends to bring me to church when I was in Form 2.  I joined their cell group with a desire to acquire more knowledge about God, and I didn't know that He was God who has the power to change my life!
I remember when I was in primary 4, I was addicted to some unhealthy websites and my mind was full of useless thoughts. This seriously dragged down my academic results.  After I became a Christian, I knew that these thoughts were of no value at all, and I stopped touching this stuff any longer.
Not only did my behavior and thoughts changed, my heart and my character were changed too. I was very afraid of the dark since I was a child. But now, I am not afraid of being alone anymore. I used to hide my feelings, but now, I can open up my heart and share with others about how I felt inside.  Before, I thought of taking my own life when I was sad, but now, I treasure every moment in my life !
All these changes are brought by a simple belief, reliance and trust in God's power and grace !
Tong Tong       University student