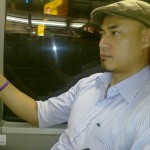 I will use "God replied me immediately" to describe my experience when believing in Jesus. 
In 2000, I was an insurance agent and have satisfactory sales records. However, when the financial storm hit the world, our business contracted a lot.  At the same time, since I had made some unwise decisions on my personal investment, I started to borrow money to pay my debts. This happened again and again.
My heart was very down by that time. I still pretended to be strong and positive in front of other people. However, when I was alone, I was very frustrated and sad. I was almost on the verge of breaking down.
When it comes to the end for human being, that is the beginning of God. One day, I was sitting on the upper deck in a bus. I saw a very large sign saying, " Come on to me all who are heavy-laden, I will give you rest. " I know this sign is talking about Jesus Christ. I thought, " if I can really rest in your place, I really want to know more about you. " 
One week later, miracles happened.  Three Christians came to me and shared with me the gospel, one after another!  The first one was my colleague. He invited me to a gospel meeting held in the Hong Kong Coliseum.  After the meeting, I was quite moved but I didn't want to show it.  The second one was my friend and she invited me to her church but I turned her down.
The third one invited me to a men's meeting. The topic was " the 3 G for men, i.e. Girl, Gold and Grade". I didn't know this is a Christian meeting at all. I was very interested in this topic.  Moreover, this friend was going to join my insurance team soon.  So I thought at least for courtesy reason, I need to go.  After the meeting, they encouraged me to believe in Jesus and we had some discussion too. At first, I had some hesitation.  However, I started to think seriously, this group of people, no matter in their education, or social class, or financially, were much better off than me.  But they still need to rely on Jesus. I thought, there must be something about this religion I didn't know about.  And as they said, you didn't need to do anything, all you need was to believe in your heart, and acknowledge that you are a Christian. I thought there was no loss at all to believe, and I could know more people here too.  That was how I decided to believe. 
Of course, after I believed in Jesus, I learnt much more about Jesus and had personal relationship with him.  I learnt that He is the only God who I could rely on, and going to church is much more than a social event.
I experienced the peace and power of God on me and was being changed by God step by step.  My relationship with my family and friends improved a lot. All my family members are Christians now!  Although my debts were not settled within one day, I have peace and joy in my heart. I learnt how to manage my personal finance and get out of that situation step by step.  This peace and joy is hard to explain. I clearly remember that on the day I decided to follow Jesus, I was so joyful. My heart was beating very fast when I was on my way home. I was so excited! I felt like I have everything I needed and other problems were not important anymore! I think, this is the peace and joy from God!
Of course, there were difficulties in life too. But with the peace and joy from God, and leaning on God everyday, I have the confidence to go through all these difficulties!
May God's grace come upon you and your family!
Ronald