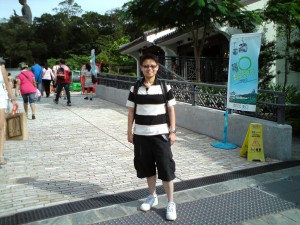 Hello everyone!  I am Francer. I have been to Elim Church for about two years.  I was a Buddhist before. In fact, I studied in Buddhist school and my sister was a Buddhist too.
How come I became a Christian? About two years ago, I felt big pressure in my work and I was very unhappy. I wanted to look for a solution. By that time, my ex-colleague, Carol, invited me to join the 7th Alpha Course.  Alpha Course is for not-yet believers to learn more about the beliefs of Christianity.  Therefore, I told myself, " just try! "
After the first session of this course, I liked this church very much. Here is just like a big family and I didn't have any feeling that I was a stranger here, even for the very first time.  And most importantly, something was very strong here, I could feel it, which I didn't have before. That was " peace " and " joy"!
When I went to the temple before, what I could get was " calm ".  But from the praise and worship time in the Alpha course, what I could get was " peace " and " joy " which was much stronger than " calm ".  They are totally different.  That is why after I completed the course, I kept coming to cell group and Sunday service.
In these two years, God had helped me a lot and His grace was sufficient for me. I prayed that I wanted to change to another department.  This happened within only two months' time.  I was much happier than before! Although my company is now much bigger than before, and the workload is much bigger than before, I can handle this very well with a positive attitude too!
Because I remember what the Bible says,
" Come to me all you who are weary and burdened, and I will give you rest. " (Matthew 11:28)
Therefore, no matter what problem or difficulty I encountered, I prayed. No matter what burden I have, I gave it to Jesus.  So, naturally, I can be freed from those burdens and pressure!
I am so happy that I can know Jesus. I was baptized in April 2010 and became a real Christian! I am very glad that I can be here and share my testimony with YOU!
Finally, I hope if you do not know Jesus yet, you can come and try to know more about Him. So we can share the peace and joy together!!
THANK YOU LORD!!
Francer