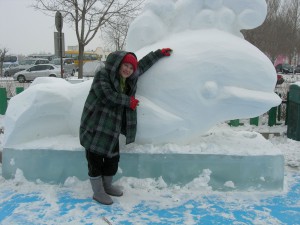 It was about 20 years ago, I came back to Hong Kong from the UK and worked as a nurse in a government hospital.  I felt that God called me to full time ministry.  However, since I had to pay for my flat for 9 more years, I said to God, " Father, let me work for 9 more years, and I will serve you full time by then. "
At that time, my uncle wanted to buy a flat which was for civil servants only.  Since our relationship is very close, I would like to see my uncle and his family happy.  I decided to use my name to buy the flat for my uncle.  Of course, the money was from my uncle.
However, since I felt that God called me to full time ministry, I knew that I would leave the hospital someday.   I said to my uncle, " Uncle, as you know, I felt that God had called me to full time ministry. I will worked for 9 more years.  Afterwards, you will need to find someone else, may be your children, to replace me as the owner of the flat. "
Later, my cousin was empolyed by a government school as a teacher. I was very glad to learn about this.  I thought God was helping us all the way and I could therefore smoothly transfer the ownership of the flat to my cousin when the 9 years were up.
9 years passed after much waiting.  It came to the time when I was about to resign.  However, we found that the owner of the flat needed to be 25 years old.  My cousin was only 23 by then ! I was so upset because my plan was upset !   I love my uncle and his family and I didn't want them having to leave this flat, which all of them liked very much.  And, it was impossible for my uncle to buy another flat at this price.   So, I had no choice but to stay 2 more years in my position.
The hardest part was, I started to question myself.  Am I really called by God to full time ministry or did I just made this up by myself ?  If God had called me, why didn't it work out ?  I was actually disappointed and frasturated.  But I have to accept the reality and lay everything into God's hands.  Prayed, waited and waited.
It was at the same time when the management of government hosptials would be transferred to the Hospital Authority ( HA ).  All the staff of government hospitals therefore need to choose if their retirement plan would stay with that government or transfer to the HA.   The difference was, there would be no pension in HA but in order to make the plans more attractive, the HA raised the % of their input to 16.5%  monthly, which was really quite attractive.
I had no idea as how to choose.  Whereas my colleague said to me, " Since you will work here for only 2 more years, why don't you just transfer the plan so that you will get a lump sum when you resign ? "  So, I just transfer without much consideration.
Two year passed and I really resigned.  After I completed my theology studies, I really started full time ministry. 
I was very surprised to discover something !  I realized that God is supernatural !  He knows everything.  Nothing is impossible with Him.  Let me share with you what happened.
Firstly, the 2 more years which I thought I was " forced " to stay was actually a big blessing to me.  Within these 2 years, the lump sum I could receive by the time of resignation was increased by $100k !
Secondly, not only could I get the lump sum,  I could have pension at the same time!   Why ? How could this be ?  In fact, for staff transferred from government to HA and who has worked for more than 10 years, their pension would continue!  This is totally out of our knowledge!  If I had insisted to resign after the 9 years, I would not be able to receive this pension !
Year after year passed.  Each year, the MPF authority mailed a statement to me.  It was of course with some figures I would never be able to fully understand.  So, I didn't pay much attention to it.
This year , I am 55 years old and have reached the age of retirement.  The MFP authority therefore asked me to go there and sign some documents that allow me to receive the money.  The money is really in my hands now. Can you imagine how excited I am ?
God is amazing. His thoughts are different from our thoughts. And his plans are greater than the best plan human beings can ever think of.   Why?  Because He knows everything, and we just know a part of it, our knowlege is so limited when compare to His.  
As Christians we may come across doubts and frasturations in our lives.  At these moments, what we should do is to trust Him and lay everything in His hands and let Him take care of us and let Him take the lead !  Bless you !
Mary