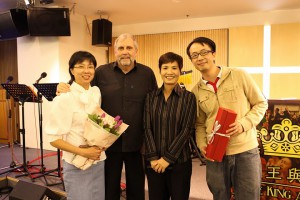 In fact, the heroes who received the most " Thank you cards " are Lily and Steven.   The number of Thank you cards they received far exceeded any other winners !   This shows that the brothers and sisters in Elim had never taken their hard work for granted !
Lily :
It is so heart-warming to receive each of these Thank-you card. I deeply feel that I am very blessed.  I am very thankful for each one of our brothers and sister!  Thank you very much!
Editor's notes  :  It is very clear that Lily prefers " doing " to " talking " !
Steven :
It is very hard to distinguish " a job " and " a ministry ".  One must do his best in his " job ", because he is paid to do so!  As time goes by, the proportion of " job" is much bigger than " ministry " . I think , " since this is a part of my job, there is nothing worthy for other people's appreciation, and it is just natural that I have to do the best. "
No matter whether this is a job or a ministry, everybody needs recognition and encouragement.  That is why I like Elim Appreciation Day.  Through this special event, every one of us ( including myself ) can learn and practice appreciation and say thanks. Finally, thank you Cora for choosing the Ukulele clip for me.  I really like it a lot !  Thank you very much !
Editor's notes : Steven, now you've got both the appreciation and the $$ !!  Win-win !!