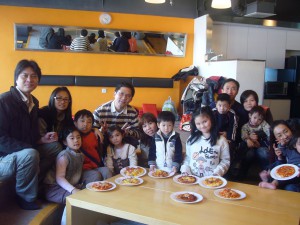 6A Reunion Kids' Kitchen has been held on 9th Jan already.  Special thanks to Pamela and Fiona from Catering Team for teaching us how to make the pizza ! Some of the kids here were just about 2 years old.  Since our principle was to have parents learning how to give reasonable accountability to our kids, parents could only perform " remote control " by giving verbal instructions.  It was really fun to have our kids being the real chef!
While we were making the pizzas,  Fiona and Jessica, our 6A tutors, were taking video and observing us.  Afterwards, we watched the video and shared how to apply 6A principles in our daily lives.  Thank you Ah Ha, Yen and Molly for providing child caring service so we could have a very good sharing time.
I have received some positive feedback from one of the parents and would like to share with you here.  She shared that her husband was unexpectly involved this time.  The fathers in other couples' sharing groups they had been to before were mostly quieter.  But here the fathers were very willing to share so making her husband felt more comfortable and thus easier to participate in the event.
Thank you so much for your sharing and your words of encouragement !
Alison