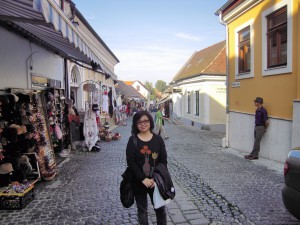 My boss always said to me,  " it is very difficult to change one's personality. "   I agreed with him very much.  Whenever I encountered difficulty in working relationships, I told myself, " it is very difficulty to change one's personality ".  I believed conflicts happened becasue different people have different characters and value systems, and there was no way that you can change yourself nor other people.  Confilcts therefore happened endlessly in our workplace.  However, deep down in my heart, I hoped to have good relationship and friendship with the people at work, so we could work happily together !
After I became a Christian, I felt I need to change because I wanted to improve the atmosphere in our office.  However, this saying, " it is very difficult to change one's personality ", seemed like a curse to me that I couldn't break.  It was hindering me to develope better relationship with other people.
I was very frasturated with myself.  One day, I cried in Pastor Leung's office, telling her what happened.  Pastor Leung said to me tenderly, " it is okay, man is not able, but God is able.  "
After a while, I read an article about inter-personal relationships.  It was very inspiring to me.  I started to follow the prayer in this article as my daily prayer.  I prayed to God, " My Father, I sincerely want to rely on your Word and your Truth to live my life everyday.  Although may be I cannot follow your teachings everyday, I sincerely wish to be changed by your Truth, day by day in every aspect of my life, especially in my relationships with colleague XXX.  "
I prayed this prayer everyday.  After about a month, I discovered my relationship with that colleague was improving gradually.  And I felt the change within my heart too. 
I realised that it was not by my will power that I was changed, but was by God's power.  I have to rely on God's power, not my own will power. I have to give my heart totally to God.
This happened about one year ago.  Now, I still pray this prayer everyday and I know that I still need to be changed by God.  I am very thankful to God that He has given me good relationship in my workplace.
With God's power, personality can be changed !
Bonnie